Main >>

Applications

>>

Sample problems

>>

Dynamo wrench
Dynamo wrench
This is an example of the dynamo wrench simulation, performed with QuickField software.
Problem Type:
Plane problem of stress analysis.
Geometry: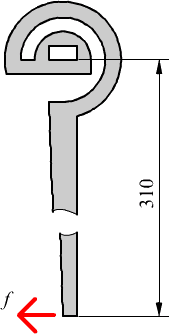 All dimensions are in millimeters.
Given:
Wrench thickness d = 10 mm;
Force applied f = 100 N (10000 N/m)
Problem:
Calculate the displacement.
Solution:
Download video or play it online (Firefox, Chrome, Opera).

.
Watch on YouTube.
Result:
The wrench hand will move for 9 mm.
Download simulation files.