Main >>

Downloads

>>

QuickField video
Video gallery
Our Support website provides a wide range of different materials, related to QuickField software. Today it is considered that more fun is watching video than reading texts. Following this trend and making studying the QuickField basics more enjoyable, we prepared a variety of video materials. They include animated tutorials of the Virtual Classroom and recordings of the QuickField webinars.
---

tutorial: Cylindrical magnetic device
Cylindrical magnetic device (actuator) consists of a fixed magnetic part, cylindrical magnetic plunger and electric coil
Author: QuickField Support team
Duration: 5 min. Date: Sep 2015
Application: electrical engineering
Tags: DC magnetic actuator,actuator magnetic force,electromagnetic actuator simulation

Download and view
---
tutorial: MEMS thermal actuator
The MEMS thermal actuator is made of polysilicon. Calculate electric current and Joule heat losses distribution, temperature and linear mechanical displacement.
Author: QuickField Support team
Duration: 7 min. Date: Dec 2017
Application: mechanical engineering
Tags: MEMS thermal actuator simulation,microelectromechanical device FEA

Download and view

View online
---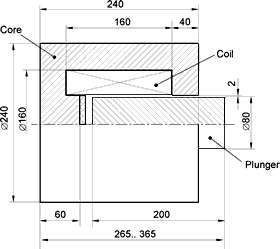 tutorial: Solenoid actuator parametric analysis
Solenoid actuator study and optimization. This is an example problem analysis performed with QuickField software
Author: QuickField Support team
Duration: 3 min. Date: Aug 2010
Application: electrical engineering
Tags: solenoid actuator parametric optimization,sensitivity tolerance analysis

Download and view

View online
---