Main >> Applications >> Sample problems >> Power busses in the air above the steel plate
Power busses in the air above the steel plate
Problem Type:
Plane problem of DC magnetics.
Geometry:

Given:
Relative permeability of air and copper busses μ = 1;
Current density in the copper busses j = 3,000,000 A/m2;
Relative permeability of steel plate μ - non-linear:
Task:
Find magnetic field distribution.
Results:
Magnetic field distribution.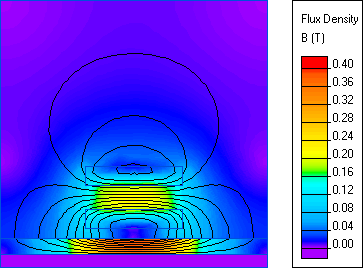 Download simulation files (files may be viewed using any QuickField Edition).