Magnetic field mapping
Magnetic field mapping usually includes plots of the field lines, color maps of the magnetic flux density or stress, and vector displays in the nodes of the regular grid. QuickField software supports all field mapping display modes by its magnetic analysis postprocessors.
Equilines of the magnetic field vector potential visually demonstrate the magnetic field distribution. Field intensity is higher in the areas where the equilines are closer. Magnetic field mapping by equipotential lines in QuickField software may be controlled by setting the interval between the lines, and potential of the base line.

Pic. Equipotential lines magnetic field mapping with QuickField
Other way of the magnetic field presentation in QuickField software is the color mapping. Mapped quantities may be chosen from the Magnetic Flux Density, Magnetic Field Strength, Magnetic Permeability and Energy Density. Field mapping controls are the color grade number and maximum and minimum levels of the mapped quantity.

Pic. Color mapping of the magnetic field with QuickField software
Alternative way of the magnetic field mapping with QuickField is display of the vectors in the nodes of the rectangular grid. Displayed field parameters are Flux Density and Field Strength. Scale and the grid cell size of the vector field map may be adjusted.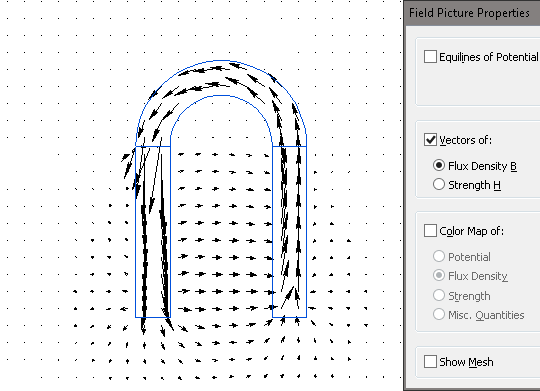 Pic. Vector quantities magnetic field mapping with QuickField
---