Main >> Applications >> Sample problems >> Building corner thermal insulation
Building corner thermal insulation
External corners of the building walls are responsible for major heat losses, so it is important to take additional measures to insulate them.
Task type
Plane-parallel problem of heat transfer.
Geoemtry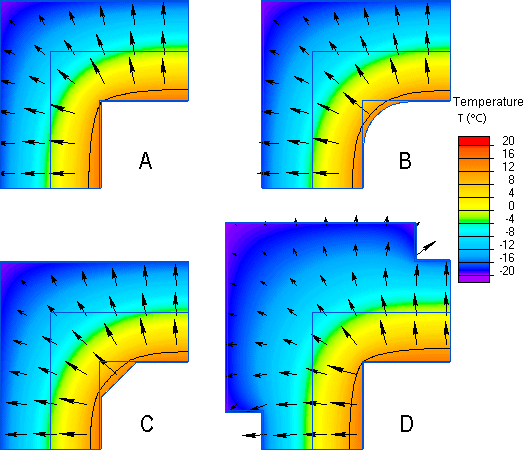 Given:
thermal conductivity of brickwork: 0.8 W/K-m
thermal conductivity of plaster: 0.93 W/K-m
air temperature outside: -20 °C, convection coefficient: 14 W/K-m2
air temperature inside: +20 °C, convection coefficient: 8.7 W/K-m2;
Task:
Plot temperature fields of various options for external corners thermal insulation.
Result:
Temperature distribution and dew point isotherm (10.7°C) for the initial wall corner structure (A) and for the different insulation design options:
B. Rounding the inner corner with plaster
C. Rounding the corner of a wall with bricks
D. Adding the brick layer to the outside corner surface
Download simulation files (files may be viewed using any QuickField Edition).