Main >>
Applications

>>
Sample problems
>>
Stranded wire
Stranded wire
The wire consists of 316 insulated transposed strands.
Problem type:
Axisymmetric problem of AC magnetics.
Geometry:
All dimensions are in millimeters.
Given:
Core permeability μ = 2500,
Copper conductivity g = 56e6 S/m,
Current I = 1 A (RMS).
Wire cross-section area S=0.126 mm2.
Frequency f=200 kHz.

Task:
Calculate Joule losses in the stranded wire winding.
Solution:
As the wire strands are transposed, each one carries the same current. To force this condition upon strands the same label is given to them. In label properties "connected in series" flag is switched on and the current value 1/316 of total conductor current is specified for the strand.
Results:
Frequency [kHz]

Stranded wire losses

Solid wire losses

0

0.085 W

100%

0.085 W

50

0.086 W

101%

100

0.087 W

102%

200

0.094 W

110%

1.8 W

500

0.14 W

165%
Current distribution in the stranded wire.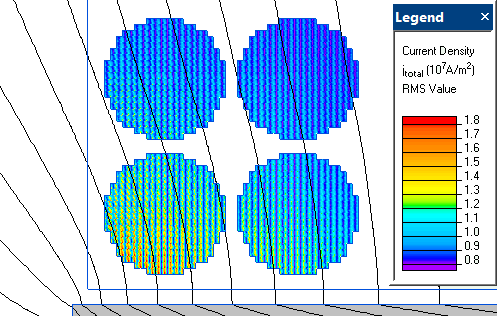 * Reference: Wikipedia : Stranded wire
Download simulation files (files may be viewed using any QuickField Edition).